Home | Contact Us | Events | News & Media | Publications | SAM Summit San Francisco

Schedule | Exhibitors | Social Time & Certifications | Location | Registration | SAM Summit Chicago |


Read the London post-show review
SAM Pros: Define Your Job Before Circumstances Define it for You
Is software consumption evolving faster than software managers can keep up?
"Be a technology guardian!," was the deceptively simple rallying cry of SAM expert and former Gartner analyst Victoria Barber at the SAM Summit London on May 21.
At first, the audience of software asset managers from across Europe thought maybe she means reign in shadow IT or maybe she means work to achieve licensing compliance to fend off auditors. But as Barber, now with Snow Software, went deeper, it turned out that becoming your organization's technology guardian means letting go of many of the practices that had previously defined your role as software asset manager.
"Accept that you're no longer in 'control' of software assets and seek to instead be an 'influencer' on software purchases and assets," she said.
Echoing this sentiment, KMPG's Simon Bolton noted that "as enterprises move toward digital transformation and the use of cloud, whether it's SaaS, IaaS, PaaS or all three, the software asset manager will actually manage less and less while the software provider manages more and more."
The theme of SAM manager transformation ran through many of the presentations at the 2019 SAM Summit London. There was an over arching idea that you're going to have to not only accept and embrace the shifts going on in business technology, but you're going to need to actively campaign for your role and relevance in that shift.  
"There are many ways SAM pros can make themselves more relevant in their organizations," said Barber. "Be liked and maybe think a bit like a salesperson, build relationships to gain insights into how your organization is consuming technology."
As data shows that more software spend is happening outside of IT, so software asset managers need to accept their changing role, acknowledged Bolton. "IT spend overall grew in 2018 by 3 percent, but cloud software spend grew by 20 percent," he said.
Although maintaining compliance, managing audits, and optimizing cost will still be among your duties, "the future of SAM is digital technology governance," says Barber. That means having the policies and procedures in place to ensure your entire organization has the right technology for its strategic goals.
"SAM is a team sport," said Rachel Ryan during her Summit presentation on how Danske Bank manages its technology assets. The SAM pro must claim a role on the management team, not just of IT but of the entire organization.
Barber offered these practical steps to take toward becoming a technology guardian: 1) Know all of your organization's technology decision makers, 2) Understand their drivers and concerns, 3) Build beyond inventorying known assets, 4) Develop the insights that technology decision makers will value and use, and 5) Use your expertise as a technology guardian to provide counsel.
A more collaborative and proactive future awaits software asset management professionals, SAM summit speakers agreed. Yet, as Bolton pointed out, the future is hard to predict: "It may be the thing that we're blind to today that will have the biggest impact on SAM in the next five years. No one predicted GDPR, the rise of ServiceNow and Saleforce.com five years ago and they have had a transformative impact. Will we be pulling out pieces of hardware and software because of the effects of the US-China trade war?"
The knowledge and insights that SAM Summit London attendees walked away with in just one day is far too much to detail here, but I'd like to thank all of our speakers (Review the 2019 agenda). To read more about Oracle, SAP, IBM announcements at the SAM Summit London, visit our LinkedIn page.
• Panel Discussion: Keeping SAM Relevant in an Environment of Digital Disruption
• Optimizing Your SaaS and Cloud Spend (Luis Peluffo, Flexera)
• Oracle Essential Licensing with Software Investment Advisory Services (Caroline Woolley, Oracle)
• SAP's New Approach to Indirect Access and How to Simplify Audits and Improve Compliance (Marc ten Thij, SAP)
• Making the Business Case for SAM and ITAM Workshop (Victoria Barber, Snow Software)
• What's in Store for the Future of SAM and ITAM (Simon Bolton, KPMG)
• What's New in IBM Licensing & Compliance (Koen Dingjan, Blue LM)
• Making Friends with Your Internal Auditor (Rachel Ryan, Danske Bank)
• Transform Your Oracle Environment and Drive Cost Efficiency (Paul Buckley, Data Intensity)
• How CISCO Systems Takes on Major Vendors (Stephen Jelso, Cisco)
• Everyone's an IT Decision Maker, Now What? (Victoria Barber, Industry Trend-Watcher, Snow Software)
And thanks to our SAM Summit London 2019 host: KPMG

We look forward to seeing you at our SAM Summit, Chicago, Oct. 21-22. Join us. SAMsummit.com.
Steven Russman, Executive Director of IBSMA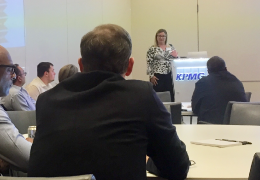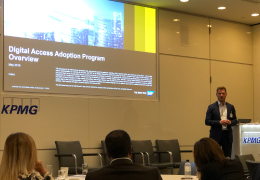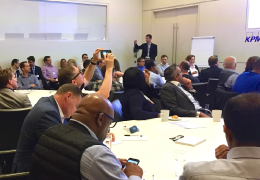 2019 Summit Sessions
SAM Summit London will feature an all-new agenda including compliance pros from Oracle, IBM, KPMG, Snow Software, Danske Bank and other leading practitioner organizations.
Here's a sample of the cutting-edge topics:
The 2019 agenda is available. click here.
Sessions are open to all attendees unless listed otherwise. Sessions listed as end user only are NOT open to vendors, consultants, software resellers, software tool providers, compliance consultants, practitioner consultants or other SAM services professionals. Individuals in this category are welcome to attend sessions open to all attendees or sessions for vendors only. IBSMA may invite non end users to attend certain sessions as co-presenter, moderator or room monitor. Questions on this policy should be directed to IBSMA director's office.
SAM Summit Mobile App
This custom app enables you to: download session materials, create a custom schedule, bookmark your favorite sessions, network and share contact info with other attendees and tweet about you experiences. Registered conference attendees will receive the login details and password required to access the app.
Who should attend
SAM Summit London 2019 is for software license management professionals in the U.K., Europe and globally.
License compliance program managers and staff
Vendor management and procurement staff involved with software licensing
Software compliance auditors and software asset managers
Legal, finance and accounting staff
Executives, managers and staff looking to network with peers
IT security pros looking to build expertise in related SAM practices

The event focuses on presenting innovations and successes in these areas:
Executive views on SAM and compliance
Trends and events affecting SAM and compliance programs
New technologies for compliance and management, plus a sneak preview of new enterprise SAM tools
Publisher-provided tools for compliance and license management
Focus on compliance analytics and adapting your program for the cloud and software-as-a-service
Lessons learned from starting and running a SAM program: IBM, Microsoft, Oracle and more
Stimulating panel discussions with industry leading companies
Case studies, stimulating group discussions and more
Sessions for end users only
Location & Hotel Info
SAM Summit London will be held at the KPMG meeting center in Canary Wharf. The building offers state of the art meeting facilities and amenities.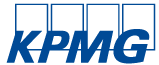 15 Canada Square
London E14 5GL
United Kingdom
Click here for office location and transportation information. Hotels convenient to Canary Wharf are listed below. Additional options available on your favorite travel booking site.
Hilton London Canary Wharf | Marsh Wall, London E14 9SH, +44 20 3002 2300
Hotel Novotel London Canary | Wharf 40, Marsh Wall, Isle of Dogs, London E14 9TP, +44 20 3530 0500
Sponsors & Exhibitors
Contact IBSMA to request 2019 exhibitor information. E-mail Services@IBSMA.com or call 1.734.930.1925.

social time & certifications
Conference sessions run 9:30 a.m.–5:45 p.m. The conference agenda will be posted in March..
May 20, 22 and 23 | Certification Courses
| | | |
| --- | --- | --- |
| Course | Description | Dates |
| Practitioners Certificate in Oracle License Management (PCOLM) | This course will empower you to make informed decisions on licensing and managing your Oracle software. The content covers not only the fundamentals of Oracle software licensing, technical support polices and software asset management, but also the essentials of server architecture, licensing and compliance concepts. Details | May 20 |
| Practitioners Certificate in SAP License Management (PCSAP) | This course will empower you to make informed decisions on licensing and managing your SAP software. The content covers not only the fundamentals of SAP software licensing, technical support polices and software asset management, but also the essentials of server architecture, licensing and compliance concepts. Details | May 22-23 |
| Practitioners Certificate in IBM License Management (PCILM) | This course will help you learn about critical areas of IBM licensing and develop a practical approach to creating reliable IBM license compliance reports. We will illustrate key concepts and pitfalls using exercises based on real-life customer scenarios. At the completion of this course, you will have in-depth knowledge on how to effectively determine your IBM license entitlements, deployment and compliance position using all available resources. Details | May 22-23 |
All courses will be held at a local meeting center. Details will be posted when available. For additional IBSMA courses click here.
Save 10% on early-bird registration (register 14 or more day in advance), or save $200 on multiple courses. Coupon codes listed on the shopping cart. Conditions apply.
*PCOLM, PCILM and PCSAP courses available for an additional fee.