Home | Contact Us | Events | News & Media | Publications

About the Summits | Sponsors | Certifications | Chicago | London | San Francisco |


Collaborate, Network and Prepare for What's Coming Next
in Software Asset Management
Expert speakers on today's complex SAM and ITAM topics, plus peer networking at the SAM Summit help professionals like you advance your SAM program and your career!
Join your software and IT asset management peers at the International Business Software Managers Association's annual SAM Summit conferences in San Francisco, London and Chicago. Our extensive session lineup features SAM and licensing experts from top software vendors, end user organizations, plus top SAM tool companies and major SAM consultancies.
Learn from the best practices of your peers during our case-study sessions featuring the SAM directors from some of the world's top corporations. These are the can't-miss events of the year for software asset management pros worldwide. Immerse yourself in emerging approaches, thought-provoking conversations and meaningful interactions with your SAM and compliance management peers.
Through panel discussions, hot-topic sessions, case-study presentations, end-user-only networking groups, tool demonstrations and focus tracks you'll gain the skills you need to chart a course, stay relevant, grow your influence, and manage risk.
Software asset management professionals attend the annual SAM Summit to learn new ways to improve their programs and connect with like-minded colleagues who can offer hard-won advice. For many attendees, their experience at the conference validates their SAM-world view. "We live in world where everything is evolving very fast, and no one is immune to changes," said attendee Michaela Breen. "Everyone needs to evolve their products at a much faster rate. Even [companies with] traditional infrastructures need to think differently."
For event details as they become available, follow us:

at @SAMSummit_IBSMA or

 for the latest updates.
Review the Excitement of SAM Summit Chicago 2018
Prove your value, celebrate your success, defend your business: Those threads wound their way through the presentations and workshops at the 2018 SAM Summit in Chicago, Oct. 22-24.
Software experts, risk managers, vendor specialists and technology guardians from around the world came together to collaborate, network and prepare themselves for what's coming next in software and IT asset management. Some came for the first time from as far away as Nigeria while others returned to renew the strong relationships built with vendors and end users. Practically all came to discuss how software as a service (SaaS) and the cloud have changed the practice of SAM and ITAM.

Kicking off the opening panel keynote, Victoria Barber, former research director at Gartner and current technology guardian for Snow Software, succinctly expressed the common theme of the event. "There's going to be a lot of data shared over the next few days in the context of this fact: our world is changing and it's changing very fast.… In order to succeed with the way things are changing, you've got to gain a strategic view, communicate with the C-Suite, and demonstrate the business value that you bring."
Breakout sessions addressed the role of SAM in this new landscape directly or obliquely, with themes such as, "Managing SaaS, Cloud and Mobile in the New Age," or "Evolving and Adapting for Cloud and Subscription Licensing," and "Don't Drop the Ball on SAM Governance."
"There was a sense of cautious professional introspection mixed with genuine excitement about where SAM is headed," said Steven Russman, executive director of IBSMA, the event's host. "In a world of proliferating shadow IT and data insecurity, software and IT asset managers are starting to take a seat at the strategy table instead of being relegated to putting out fires in the old world's audit/compliance cul de sac."
For several thought leaders present, the term "shadow IT" itself represented part of the problem. That term, they said, perpetuates the myth that corporate IT programs operate in the light and line-of-business managers are going into dark alleys of the Internet in search of insecure, untested cloud-based apps. The new way of thinking is to enable end users and collaborate with managers to define the parameters for the most effective, productive, low-cost and high-performance software needed to get to market faster.
On one hand, managers across the organization, who are expected to dial up performance under tight deadlines with strict budget constraints, don't see any good reason to avoid the consumer software or ABIT (Anyone but IT) software market. On the other hand, executives are increasingly losing visibility into data security risks, terms-of-use compliance and even what software is actually in operation in which corner of the globe. As all of these factors get more complicated, only SAM professionals are truly equipped to translate between the needs of IT and the business, SAM Summit speakers stressed.
"For all the major mega-vendors, the complexity is not getting any easier. The challenge for the end-user is to unravel all this complexity in real time. I can't see it getting any less complex," said Tomás O'Leary, CEO and founder of Origina, a global supplier of IBM support and maintenance. That's another reason why software asset managers are in an excellent position to deliver significant waves of value to the organization. Not only can they reduce costs by proactively preventing vendor audits, they can extract value from cloud-based tech stacks.
"If you can show your stakeholders you can impact their decision-making processes, that's one of the greatest ways you can show your value," advised Rebecca Horton, former SAM Lead at Red Hat UK and current Regional Director for LG6, a top SAM consultancy in Canada. "You'll enable innovation, promote digital transformation and help them accomplish their business goals."
"This SAM Summit was electrifying," said Russman. "Now is an exceptional time to be a SAM professional due to the strong market demand for those who can simplify complexity and the broad career pathways open for those who learn to actively promote their successes. SAM leaders concentrate on their networks, both the digital ones that actualize business objectives and the physical ones, where people share sharp insights that have cross-industry applications."
Mark your calendars to join us for SAM Summits in San Francisco (Dec. 2019), London (May 21, 2019) and Chicago (Oct. 21-22, 2019).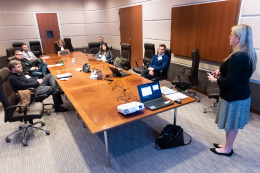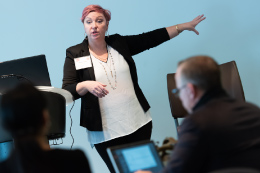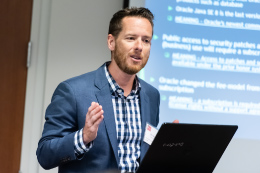 About the conferences
What is SAM Summit? Now in its 16th year, SAM Summit is a unique series of conferences focusing on intermediate to advanced-level topics in software asset management, software licensing, contracting and compliance, vendor management and cloud economics, plus emerging developments in SAM. Space is limited! Get the details on the SAM Summits in San Francisco (Dec. 2019), London (May 21, 2019) and Chicago (Oct. 21-22, 2019)
What's on the agenda? Our agendas are geared for a select audience and features top speakers, case studies, panel discussions and roundtables, plus opportunities for networking and peer discussion. Sessions address cutting-edge trends for 2019, such as compliance for software-as-a-service, SAM and data privacy and data security, plus compliance clinics, peer networking discussions and workshops and license management strategies for Oracle, IBM, SAP, Microsoft and others. We've organized the agenda into tracks and sessions for intermediate and advanced-level attendees.
Here's a sample of our cutting-edge topics:
End User 
How Harvard University Optimizes Software License Costs in the Cloud
How CISCO Systems Takes on Major Vendors
Evaluate and Select the Right Tool
Get More out of Negotiating with VMWare
IBM
2018 Case Studies; Managing Your IBM Software Portfolio 
What You Need to Know About IBM's License Metric Tool
What's New in IBM Licensing & Compliance
Stop Overspending on IBM Maintenance
Microsoft
What's New with Microsoft's SAM and Compliance Programs
Microsoft Datacenter Cloud Migration: Impacts on Licensing and Compliance
Dissecting Data for a Microsoft Audit
Office 365 Subscription License Management, Lessons from the Field
Oracle
Planning for the New Oracle Java: January 2019 & Beyond
Oracle License Management in Cloud Environments
Negotiating with Oracle
Oracle ULA 101
SaaS and Cloud
Managing SaaS, Cloud and Mobile in the New IT Age
SaaS is Awesome, But How Do I Manage It?
Evolving and Adapting for Cloud and Subscription Licensing 
Selling SaaS SAM to Internal Stakeholders
SAP 
How to Simplify SAP Audits and Improve Compliance
Snow Software for SAP
How S/4 HANA and Cloud Changes SAP License Management
SAP's New Approach to Indirect Access
Trends
Everyone's an IT Decision Maker, Now What?
Clean Asset Data Is Vital to Achieving Your IT Initiatives
The Post GDPR World: How Will It Affect Your Business?
Open Source and SAM, Managing Assets to Drive Innovation 
View the San Francisco, London and Chicago agendas. We're busy working on the 2019 agendas which will be published online.
Where are the summits held? We select world-class venues in San Francisco, London and Chicago, close to the subway, museums and restaurants. These international cities are ideal locations and many of our members are within a two-hour flight.
Who will attend? Like past successful SAM Summits, we expect many sophisticated and experienced end-user attendees who are looking for tips and solutions for challenging—and in some cases, maturing—software and IT asset management environments. Attendance is balanced to maintain our intimate environment providing attendees ample time to mingle and network.
Exclusive SAM Summit Sponsors & Exhibitors
To receive a 2019 SAM Summit sponsor kit, e-mail Services@IBSMA.com or call 1.734.930.1925.
SAM Summit Conference & Certification Courses
| | | | | |
| --- | --- | --- | --- | --- |
| Course | Description | San Francisco | London | Chicago |
| | This course will empower you to make informed decisions on licensing and managing your Oracle software. The content covers not only the fundamentals of Oracle software licensing, technical support polices and software asset management, but also the essentials of server architecture, licensing and compliance concepts. Details | Dec. 2, 2019 | Nov. 18, 2019 | Oct. 23, 2019 |
| | This course will empower you to make informed decisions on licensing and managing your SAP software. The content covers not only the fundamentals of SAP software licensing, technical support polices and software asset management, but also the essentials of server architecture, licensing and compliance concepts. Details | Dec. 3-4, 2019 | Nov. 19-20, 2019 | Oct. 24-25, 2019 |
| | This course will help you learn about critical areas of IBM licensing and develop a practical approach to creating reliable IBM license compliance reports. We will illustrate key concepts and pitfalls using exercises based on real-life customer scenarios. At the completion of this course, you will have in-depth knowledge on how to effectively determine your IBM license entitlements, deployment and compliance position using all available resources. Details | Dec. 5-6, 2019 | Nov. 21-22, 2019 | Oct. 24-25, 2019 |
| | This course will help you master the 10 essential areas of a software license agreement. We present the material in plain English in the form of questions to ask and points to consider during the negotiation or contract evaluation process. Details | Dec. 3, 2019 | Online on-demand only | Oct. 24, 2019 |
Save 10% on early-bird registration (register 14 or more day in advance), or save $100-200 on the conference + course, or save $200 on multiple courses. Coupon codes listed on the shopping cart. Conditions apply.
*PCOLM, PCILM, PCSAP and PCSLA courses available for an additional fee. In-conference seminars included in the conference fee.
SAM Summit Attendee and Course Registration

Visit San Francisco, London and Chicago for program and registration details.