Summit Schedule | Sponsors & Exhibitors | Education & Networking | Location & Hotel | Registration
Meet and mingle with the pros at SAM Summit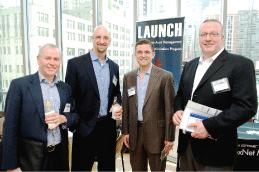 IBSMA director Steven Russman (third from left) pauses with presenters from KPMG and IBM at the Welcome Reception. Below: Charlie Betz (Enterprise Management Associates) covers SAM tools.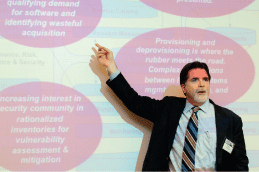 The SAM Summit, in Chicago June 26-28, is a gathering place for the top software asset management pros from across the globe, offering unparalleled opportunity to network and discuss industry-wide issues. Seasoned asset managers, or those just launching their SAM programs, will find plenty of opportunities to grow their skills and deepen their knowledge in a professional environment that's receptive to all levels.
The core-level sessions include the Basics of Microsoft Licensing, an Introduction to Vendor Engagement and Management, and don't miss Making SAM and IT Service Management Work Together: Practical Dos and Don'ts.
SAM executives will find innovative and actionable information from a host of advanced-level sessions including Licensing Implications for Running SAP and Oracle in the Cloud, Live Q&A: Oracle Licensing, Procurement & Compliance, and Fixing Problem "Big Data" Software Agreements from Startups. Review the schedule.
Every year the SAM Summit welcomes IT asset professionals, SAM managers, configuration managers, IT auditors, software compliance managers, IT process and service managers, SAM tool developers, and others in related fields from both medium-sized and large corporations. This year, come see what the industry buzz is all about.
Register today!
Need help convincing your boss? Use our handy convince-your-boss letter that outlines the benefits attending this conference will bring to your organization. Download the letter.
SAM Summit 2012 Attendees Walk Away with Insider Tips, Exclusive Knowledge
A sell-out crowd of software asset management pros from across the globe gathered at the 10th SAM Summit in Chicago, hosted by the International Business Software Managers Association (IBSMA). They came to gain critical knowledge and insights designed to grow their careers and boost their organizations' profitability. They came to share best practices, discuss challenges and learn the latest industry trends and strategies at more than 35 sessions, and they weren't disappointed.
If you weren't among the 130 attendees at this exclusive gathering, you missed out on learning what's innovative in the next generation of SAM and license management tools from a panel of top vendors, as well as what's driving SAM and license management in 2012, an in-depth presentation by IBSMA Executive Director Steven Russman.
Industry analyst Amy Konary of IDC delivered one of this year's top-rated sessions on key trends and predictions in software pricing and licensing. Attendees were also impressed with the detailed case study of Global SAM at BMW with Bernhard Boehler from Aspera and Paul DeGroot's eye-opening insight into Microsoft Licensing for Mobiles and Tablets. "The lively discussions and first class speakers helped make this summit one of the best we've ever had," said Russman.
The buzz at the networking sessions, at the roundtables and in the hallways focused on audits, of course—specifically how to manage and avoid them. Insiders from IBM and Microsoft along with auditors from KPMG revealed their best tips for mastering audits while Carol Nicola of Liberty Mutual Insurance, presented her knowledgeable dos and don'ts of major supplier audits. "The heavy concentration on audit was timely," noted one attendee. "I had high expectations and the conference met them."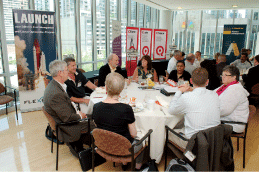 Attendees enjoy networking over lunch and the Gleacher Center's collegial atmosphere.
High Praise for Networking Sessions
On the feedback survey, attendees said they were "impressed with the topics covered and how it was organized" and that the "sessions covered a wide range of topics and presenters were very knowledgeable." The highest praise from veteran attendees went to the roundtable discussions described as "stimulating!" In fact, the 2012 SAM Summit included more opportunities to network and share ideas that ever before and attendees took part eagerly.
"The networking was great!," said one attendee. "I liked the presentations from auditors, experts, consultants and other mature SAM users." "I learned a lot and all of my questions were answered," said one first-time attendee. "I will surely recommend this event to my team."
If you didn't take advantage of the insider tips and exclusive knowledge shared at the 2012 event, plan now to attend June 26–28, 2013.

| | |
| --- | --- |
| | Review the 2013 schedule, packed with more than 60 sessions in five tracks, covering licensing, compliance, contracts and vendor management, tools and services and hot topics, plus dedicated sessions for vendors. Session options include roundtable discussions, workshops, breakouts and conference panel discussions. |

Visit these sponsor and exhibitors at SAM Summit 2013: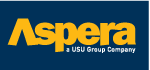 Aspera is a highly specialized provider of software asset management solutions. Our unique service-based approach has been successfully implemented in international projects since 2000. More than 130 enterprises–including numerous Fortune 500 companies–rely on Aspera's license management expertise. Visit Aspera.com.

Flexera Software is the leading provider of strategic solutions for Application Usage Management solutions delivering continuous compliance, optimized usage and maximized value to application producers and their customers. Flexera Software is trusted by more than 80,000 customers that depend on our comprehensive solutions—from installation and licensing, entitlement and compliance management to application readiness and software license optimization. Visit Flexerasoftware.com.

HP is one of the world's largest providers of information technology infrastructure, software, services and solutions to individuals and organizations of all sizes. At HP we work to make what you do matter even more. HP Software is one of HP's premier product divisions and focuses on making your applications and information work for you. HP offers market leading software and solutions to help you solve your most vexing challenges including our leading HP Asset Manager software solution—which helps you optimize your expenditure on software licenses while keeping you compliant. Visit HP.com/go/assetmanagementsoftware.

IBM Tivoli Endpoint Manager—built on BigFix© technology—helps you achieve smarter, faster endpoint management. It combines endpoint and security management into a single solution that enables your team to see and manage physical and virtual endpoints—servers, desktops, roaming laptops, and specialized equipment such as point-of-sale devices, ATMs and self-service kiosks. As threats emerge, the software allows you to rapidly remediate, protect and report on endpoints in real-time. By automating time-intensive tasks across complex networks, you can control costs while reducing risk and supporting compliance. Tivoli Endpoint Manager can be deployed in days for any network size or configuration, providing a very rapid return on investment. For more information, visit IBM.com/software/tivoli/solutions/endpoint/?s_pkg=bfmw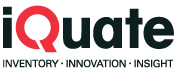 Established in 2002, iQuate is a privately owned company, with its HQ in Dublin, Ireland and regional offices in San Francisco, Sydney and Sao Paulo. iQuate is the global leader in IT inventory and discovery. We develop iQSonar—the most complete and accurate inventory technology available on the market today. This technology delivers complete, continual and accurate visibility of highly complex physical, virtual and cloud environments. Our verifiably accurate inventory improves the critical business decisions that control costs and mitigate risks. Visit iQuate.com.

License Dashboard combines unrivalled SAM and software licensing expertise with professionally-developed software solutions designed to help both large and fast-growing organizations manage their software expenditure, minimize costs, optimize utilization and streamline the entire software lifecycle.
From point-in-time Effective Licensing Position (ELP) programs, through to on-going license compliance and Software Asset Management initiatives, License Dashboard's advanced portfolio of solutions and professional services will help you establish, understand, optimize and manage your software licenses. All of which can lead to savings of up to 30% in your overall IT expenditure.

Miro Consulting helps companies analyze and negotiate enterprise software contracts—specifically Microsoft and Oracle licensing. In addition, the company offers software asset management consultation services. Since 2000, the NJ-based company has negotiated over $1.5 billion in software licensing transactions. Miro has helped 500-plus clients throughout North America to optimize their total cost of ownership (TCO). Visit MIROConsulting.com.

NPI helps clients eliminate overspending on IT, telecom and shipping. Extensive market data is combined with vendor-specific expertise and proprietary costing models to provide price analysis, benchmarking, contracting, RFP, vendor auditing and other cost optimization services. NPI analysts consistently identify 7-figure savings for clients. Services are self-funding–fees are 100% performance based. Visit NPIFinancial.com to learn more.

SAM Summit 2013 sessions will be held at the University of Chicago Center Conference Facilities.
450 North Cityfront Plaza Drive
Chicago, Illinois 60611
312.464.8660
Map of local area
On-site wireless Internet access available in the conference area.
A premier conference center in the heart of Chicago. The University of Chicago Booth Center is conveniently located in the center of Chicago's business community, just blocks away from the Loop and steps away from Magnificent Mile shopping, restaurants and hotels. It is easily accessible with public transportation and adjacent parking lots.
Driving directions and parking information for the conference center.
Hotel Accommodations
IBSMA has reserved a block of rooms ($239/night, plus 14.5% tax) at the InterContinental Chicago Hotel, a four-star hotel located at 505 North Michigan Ave. Use group code CHD when you reserve your room online. The hotel is one block from the conference center. These rooms are reserved for conference attendees June 23 to 28, 2013. For alternate nights, contact the hotel directly and mention IBSMA SAM Summit 2013. The IBSMA room block closes May 28. Map of local area
Click here for the hotel online booking page to reserve a room (at current rates, subject to availability) or call 800.628.2112 or 312.944.4100.
We also suggest the following hotels. Those marked with * are within walking distance. For recommendations contact IBSMA. Reserve early.
Chicago Visitor Information
For a database of great Chicago restaurants and events, visit the Chicago Tribune's Metromix. For city travel information, visit the City of Chicago Web site.

June 24-25 | SAM Summit Conference & Certification Courses
Advanced-level certification courses and seminars will held June 24-25, 8:30 a.m. to 5:00 p.m. Additional fee for these sessions. SAM Summit attendees receive $100 discount on these course.

All courses will be held at the University of Chicago Center Conference Facilities.
June 25 | 5:00–7:30 p.m. | Registration & Conference Services
SAM Summit attendees are invited to stop by the InterContinental Chicago Hotel to pick up conference materials. Look for the SAM Summit sign and registration table in the lobby.
June 26 | 6:00–7:30 p.m. | SAM Summit Networking Reception
Join us in for an appetizer and drinks reception. Unwind, mingle and visit with the exhibitors and enter the drawing for valuable prizes. Prize drawings to be held at the conclusion of the reception.
June 27 | 6:30–9:00 p.m. | Networking Dinner
All conference attendees are invited for dinner and drinks at Francesca's on Chestnut (200 E. Chestnut Street, Chicago 60611). Relax after a busy two days and have some fun. Space is limited and RSVP is required.

An alternate dinner is available along with a visit to the world-class Hancock Center Observatory.

Registered attendees my RSVP to attend either of these events.

About the International Business Software Managers Association (IBSMA)
The International Business Software Mangers Association (IBSMA) is the world's largest nonprofit association of business-focused software management (SAM) professionals working together to develop and promote SAM best practices and address issues of common concern. Visit IBSMA.com for details.