Home | Contact Us | Events | 2020 Vision | Register | Attend | Agenda |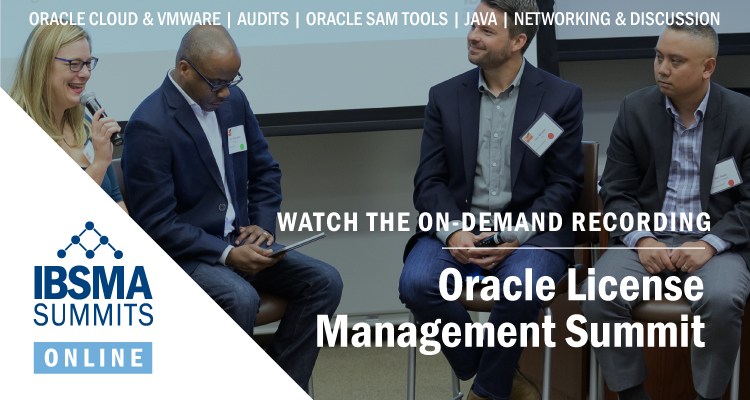 Oracle SAM in the Pandemic Age: Know Your Organization,
Cut Waste and Embrace Collaboration
Click to Replay
The event recording is available for replay. At IBSMA Summits Online you'll have direct access to Oracle expert speakers and their most up-to-the-minute insights on today's complex software licensing topics—plus peer interaction. Advance your SAM program... and your career!
It's who—and what—you know. Join your software and IT asset management peers at the IBSMA's Oracle License Management Summit—completely online, for the first time ever—on July 15, 2020. Our session lineup features Oracle SAM and licensing experts Eric Guyer and Mohammad Inamullah. Attendance is limited to end users only.
Elevate your strategy and career options. Learn from the experts—and your industry peers—the best practices that make a difference. These interactive sessions are the can't-miss events of the year for Oracle software asset management pros worldwide. Immerse yourself in emerging approaches, thought-provoking presentations and meaningful interactions with your SAM and compliance management peers. Plus, it's all online! No travel is required.
Cutting-edge content and stimulating presenters. You'll experience four 30-minute focused presentations, followed by interactive time for questions and answers. This end-user-only summit lets you gain the skills you need to chart your course, stay relevant, grow your influence and manage Oracle licensing risk.
For IBSMA event details as they become available, follow us at:

@SAMSummit_IBSMA or

 for the latest updates.
Why you should attend
SAM professionals attend IBSMA Summits to learn new ways to improve their programs and connect with like-minded colleagues who can offer hard-won advice. "We live in a world where everything is evolving very fast, and no one is immune to changes," said one 2020 attendee. "Everyone needs to evolve their products at a much faster rate. Even [companies with] traditional infrastructures need to think differently."
The leading-edge Oracle topics include:
Master the Oracle Cloud Catalog and Oracle License Management in Cloud Environments—Plus: Running Oracle on VMware
Moving Parts of an Oracle Audit
The Truth About SAM Tools for Oracle
Update on Oracle Java: How Much Should You Pay Oracle?
Q+A forums after each presentation
An open forum to close out the conference.
Summit sessions are open to end users only and NOT to vendors, consultants, software resellers, software tool providers, compliance consultants, practitioner consultants or other SAM services professionals. IBSMA may invite non end users to attend certain sessions as a co-presenter, moderator or session monitor. Questions on this policy should be directed to the IBSMA director's office.
Oracle License Management Summit is for software license management and compliance professionals in the U.S., Europe and globally.
Share the experience! Invite your team to attend. Registration is per connection, not per person. Purchase multiple connections for multiple locations. Register
Who should attend
License management, compliance and SAM program managers and staff
Software compliance auditors and software asset managers
Legal, finance and accounting staff
Executives, managers and staff looking for focused content on Oracle license management
IT service management, operations and security pros looking to build expertise in related Oracle SAM topics
Vendor management staff looking for insights on managing the Oracle relationship
Connect with the SAM community The online format of the Oracle License Management Summit allows for informal exchanges between attendees. Plus, because it's an end-user only event, we will distribute the attendee list, with company name (subject to opt-out). We'll also facilitate introductions and connections to promote networking opportunities.
Agenda and speakers
The event recording is available for replay.
We've selected the best of the best from our annual SAM Summits. These highly rated presenters are experts in Oracle license management. And this summit is exclusively for end users. Listen, learn and ask questions in this vendor-free, no-hype conference addressing forward-looking Oracle license management topics. The summit runs July 15, 2020, from 11:00 a.m. to 3:00 p.m. U.S. Eastern Daylight Savings Time (EDT).
| | |
| --- | --- |
| 11:00-11:10 | Welcome to IBSMA Oracle License Management Online IBSMA director Steven Russman kicks off the online summit, which offers four 30-minute sessions and additional time for discussion. Bring your questions and get insightful answers. While you are welcome to ask questions in real time during the sessions, we encourage you to submit your questions in advance and let the experts prepare a response as part of their presentation. |
| 11:15-11:55 | Master the Oracle Cloud Catalog and Oracle License Management in Cloud Environments—Plus Running Oracle on VMware (Mohammad Inamullah) You know cloud computing offers extraordinary opportunities for getting the best value out of your software investments. But how much do you know about the Oracle licensing implications for public cloud environments (AWS, Azure, Google Cloud)? Whether you're planning a move to the cloud, considering a major Oracle purchase, performing a re-architecture, or concerned about Oracle license compliance and optimization, this session with Mohammad Inamullah of Redwood Compliance is for you. Mohammad will ensure that you walk away with a clear understanding of the licensing implications in cloud environments, including Oracle Cloud Credits, important terms in the Cloud Service Agreement, BYOL licenses to Oracle IaaS/PaaS, plus the latest on running Oracle on VMware. |
| 12:00-12:45 | Moving Parts of an Oracle Audit (Mohammad Inamullah) The best defense is a good offense and being prepared for a software audit is no exception. Whether you're conducting a self-audit of your Oracle software or readying for a vendor assault, you'll want to use care in order to get realistic results. In this session, Mohammad Inamullah from Redwood Compliance, details what you can expect in an Oracle audit and how to prepare for it. He'll cover the nature of the audit, your rights and obligations, importance of clean data, and how to keep control over the process and manage communications. |
| 12:45-1:00 | Break |
| 1:00-1:40 | The Truth About SAM Tools for Oracle (Eric Guyer) Join this no-holds-barred discussion session for the truth about SAM tools for Oracle. Based on his extensive technical expertise and know how, Eric Guyer shares tips for ensuring a successful Oracle SAM tool implementation. Whether it's Flexera, Snow, Oracle's collection tool or one of the verified third-party tools, you'll get the straight scoop on how they really work. We'll also cover where the tools do not meet Oracle audit requirements. Bring your questions to this discussion session, and get input from the experts. |
| 1:45-2:25 | Update on Oracle Java: How Much Should You Pay Oracle? (Eric Guyer) In 2019—when Oracle changed how Java is licensed, delivered and supported—it created a lot of confusion in the marketplace. In 2020 it's still challenging to determine if your Java installations require payment to Oracle. Get answers from Oracle expert Eric Guyer, who will lay out the facts, options and rules for Java in the enterprise. Learn how to assess how much Java you need, which subscription model fits best, what Open JDK is and much more. Bring your questions. |
| 2:30-3:00 | Closing remarks, recap and audience questions. The summit is coming to a close, but there's still time to ask your last-minute burning questions. |
Meet the speakers
Vision 2020: Key Trends in Software Asset Management
Be a software asset manager (SAM) who leads the way with up-to-the-minute information and the best available tactics for adapting to an ever-evolving landscape.
SAM Trends 2020
In our last in-person summit, the panels and sessions covered a wide range of topics, ranging from understanding workplace culture to tackling spending policies, from SAP licensing to S/4 HANA transitions and from lowering audit risks to maximizing cloud capabilities. Despite the breadth, there were three threads that were shared by the bulk of speakers—mainly: Know thyself, cut waste and embrace collaboration.
The tone was set by the kickoff panel, Managing SaaS, Cloud, Vendors and Spending in the New IT Age. The four speakers (Cory Wheeler, Van Richardson, Sandi Conrad and Rich Reyes) touched on several challenges that SAM professionals face: the proliferation of shadow IT and software redundancies, frustrations with hidden costs or surprising upticks in prices, a lack of governing policies on new resources and a decentralized decision-making process that can make actual management difficult.
Discovery, as the panel stressed, is an important first step. "Actual resource consumption is something that organizations need to figure out," said Rich Reyes, executive vice president of Connor Consulting. Devoting time to doing due diligence upfront in order to understand what the organization requires can save a lot of headaches in the long term.
Know your own software needs inside and out
Several of the breakout sessions highlighted the importance of taking a good look at company needs in order to evaluate service providers, negotiate existing contracts and optimize the software platforms an organization already has. Some of the questions that professionals may want to ask themselves include, for example:
• Is there a clear understanding of restricted licenses
• What is the strategy to avoid agreement violations
• Are the support costs justified
As Brian Watson said in his talk on evaluating and selecting SAM managed service providers: "You want to make sure the contract defines your angles, too."

You're wasting too much on the cloud
Having a streamlined system in place makes it easier to manage software assets across large organizations. It also pares down costs and prevents unnecessary spending. Even with popular computing services, there are gaps that professionals should be keen on closing. Take the public cloud. Several of the presenters pointed out that users waste an average of 35 percent of their cloud expenditures due to a variety of factors, including complex pricing models, limited controls over provisioning and the constant stream of new services added to it. By taking the time to identify the gaps between your cloud's current use and its desired state, "you can make changes today that can save money for your organization immediately," said Cliff Holt of KPMG. Kim Weins of Flexera echoed this sentiment by suggesting that resources be rightsized for the organization so they can be automated and optimized.

Great tech won't solve your people problems
In order to simplify asset management, collaboration is key—across departments, hierarchies and partnerships. An integral part of our job is to convince executives to invest in this area, encourage our team members to operate at the top of their abilities and establish ties with providers that are mutually beneficial.

Representatives from Oracle and IBM shared new developments that would make the audit process more open and transparent, with both indicating that the main goal was collaboration. Roundtables on dealing with company management, staffing a SAM team, working with Generation S and leadership culture also gave participants the chance to voice their own challenges and triumphs on this topic. Victoria Barber of Snow Software put it best when she said: "We believe the future of digital technology is human-centered, and we need to shift our focus from technology to the people who use it."

As the SAM field expands—and the demand for well-rounded, adaptable and enterprising professionals continues to rise—there will be more challenges. But there will also be more opportunities. The 2020 Oracle License Management Summit offers a path forward for Oracle license management, reminding you that your SAM work is vital to the financial and operative health of your organization. By identifying needs, investing in tailored resources and harnessing the power of collaboration, you will remain essential to your organization's success for many years to come.
About the IBSMA Summits Online
What is the IBSMA Oracle License Management Summit? In response to the COVID-19 pandemic—and by popular demand—we are launching a series of unique online license management conferences, modeled after our successful SAM Summit series. This online summit focuses on intermediate to advanced Oracle topics in software asset management, software licensing, contracting and compliance, vendor management and cloud economics—plus emerging developments in SAM.
What's on the agenda? Our agendas are geared for select audiences and feature top speakers running interactive presentations and discussions. Sessions address the pressing issues of the day in 2020, such as compliance for software-as-a-service (SaaS), SAM and data privacy and data security. You'll also enjoy peer networking opportunities, workshops and license management strategy sessions. We've organized the agenda into single tracks, with time for your questions.
Where are the summits held? Online—no travel required! We use the GoToWebinar platform, a trusted and tested service with high reliability. You can dial in using your phone or connect through your computer. The Oracle summit will be held 11:00 a.m. – 3:00 p.m. U.S. Eastern Daylight Savings Time (EDT) on July 15, 2020.
Who will attend? As with past SAM Summits, we expect the online conferences to attract sophisticated and experienced end users who are looking for tips and solutions for challenging—and in some cases, maturing—software and IT asset-management environments. Registration is limited to end users only, making this event hype-free and sales-free.
Space is limited! Register today.
Oracle License Management Summit Registration

The event recording is available for replay. Note: Use scroll bars to view product details and Add to Cart buttons.