Home | Contact Us | Events | IBSMA.com | News & Media | Publications | SAM Summit Chicago

SAM Summit San Francisco is returning in 2020.
Check back in December for details.
Summit Schedule | Sponsors & Exhibitors | Social Time & Certifications | Location & Hotel | Registration |


The One Value-Packed Summit for
software Compliance Professionals
At CM Summit, attendees gain the knowledge and insight they need to grow their compliance programs, avoid costly audits, and optimize their software spend. A full 3-track program over two full days will present innovations and successes through thought-provoking presentations, roundtable discussions, case studies, and open networking time to help SAM pros assess and manage compliance, audits and license negotiations.
What you missed from the 2017 CM Summit
The fifth annual Compliance Manager Summit in San Francisco delivered in-depth license management tips and techniques to end user SAM managers, and offered a deeper dive into audit negotiation tactics, complexities of cloud licensing, and specifics of Oracle, IBM, HPE and Adobe contract terms. Read more
Read more from the CM Summit Featured Sessions on our Blog
Can License Compliance Be Friendly?
 
Channel Your Oracle Anger into Leverage

Perpetual Licenses and Other Alternative Facts

The Tool That Saves Millions on IBM Licenses

Limit Your Software Audits with this Approach

Challenge Your Software Compliance Audit Findings and Win
Follow us:

at @SAMSummit_IBSMA or

 for the latest updates.
Summit Sessions
CM Summit will feature an all-new agenda including compliance pros from Oracle, IBM, Anglepoint, TIBCO, DELL EMC, KRONOS, VISA, Applied Materials, Reed Elsevier, CISCO and more leading practitioner organizations.
Here's a sample of the cutting-edge topics:
Keeping SAM Relevant in an Environment of Digital Disruption
An Expert's Tour of Optimizing Oracle in Virtual Environments
Learn from Compliance-Mature Industry Pros
Sneak Peek at New SAM Standards
From Cloudy to Transparent, Managing Assets in the Sky
Effective SAM Across Department Silos
What's Driving SAM and License Management in 2018
Developing Your Blueprint for a State-of-the-Art Compliance Program
Vendor Relationship Management, Engaging with Microsoft
What's New in IBM License Compliance
Today's Legal Environment for Compliance and Enforcement
… and more.

Click here for 2018 agenda details.

Sessions are open to all attendees unless listed otherwise. Sessions listed as end user only are NOT open to vendors, consultants, software resellers, software tool providers, compliance consultants, practitioner consultants or other SAM services professionals. Individuals in this category are welcome to attend sessions open to all attendees or sessions for vendors only. IBSMA may invite non end users to attend certain sessions as co-presenter, moderator or room monitor. Questions on this policy should be directed to IBSMA director's office.

Compliance Manager Summit Mobile App
This custom app enables you to: download session materials, create a custom schedule, bookmark your favorite sessions, network and share contact info with other attendees and tweet about you experiences. Registered conference attendees will receive the login details and password required to access the app.
Who should attend
Compliance Manager Summit 2018 is for software company license compliance professionals in the U.S., Europe and globally.
License compliance program managers and staff
Software compliance auditors and software asset managers
Legal, finance and accounting staff
Executives, managers and staff looking to network with peers
IT security pros looking to build expertise in related SAM practices

The event focuses on presenting innovations and successes in these areas:
Executive views on SAM and compliance
Trends and events affecting SAM and compliance programs
Developing programs for using qualified SAM partners, company staff and tool providers
New technologies for compliance and management, plus a sneak preview of new enterprise SAM tools
Publisher-provided tools for compliance and license management
Focus on compliance analytics and adapting your program for the cloud and software-as-a-service
Lessons learned from starting and running a SAM program: IBM, Microsoft, Oracle and more
Stimulating panel discussions with industry leading companies
Case studies, stimulating group discussions and more
Sessions for end users only
Location & Hotel Info
Compliance Manager Summit 2018 will be held at the Argonaut Hotel, a boutique 4-star hotel in Fisherman's Wharf, on the San Francisco Bay.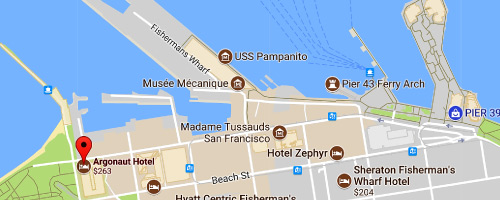 495 Jefferson Street at Hyde
San Francisco, CA 94109
Hotel Direct: 1.415.563.0800

Click here to book your room at the group rate of $294/nt. plus tax and amenity fee: https://gc.synxis.com/rez.aspx?Hotel=65957&Chain=11910&group=ECP MEDIA LC. Note that as of January 30 the group rate is sold out online. Please call Kristin O'Brien at the hotel directly and mention IBSMA – Compliance Manager Summit for the group rate. Kristin may be reached at 1.415.345.5512. (Rooms available at this rate are subject to prior sale.)
Sponsors & Exhibitors
Contact IBSMA for 2020 exhibitor information. E-mail Services@IBSMA.com or call 1.734.930.1925.

Flexera Software helps enterprises increase the usage and value they derive from the software they purchase. Our next-generation software licensing, compliance and installation solutions help future-proof business against technology changes, optimize your software investments and prevent unexpected costs and risks by enabling continuous license compliance, and ensuring software is readily available when and where needed. Flexera Software solutions are trusted by more than 10,000 enterprise customers on more than 1 million applications across more than 500 million desktops. For more information visit Flexera.com.

Livingstone is an independent, global provider of Software Asset Management (SAM) Managed Services. We deliver SAM intelligence, enabling our customers to achieve hard cost savings, quantifiable risk mitigation, licence optimisation and vendor audit readiness. We also support our customers through business transformation initiatives with our blend of innovative value-added services, proprietary technology and substantial vendor expertise (e.g. Oracle, Microsoft, IBM, SAP, VMware, etc.).

Accurate SAM intelligence is the outcome of our focused approach to SAM. All of a customer's raw inventory data (discoverable, undiscoverable and non-instance data), plus entitlement data is gathered and processed through Livingstone's proprietary technology LUCE and scrutinised by our large team of over 50 SAM and vendor specialists. Adept at understanding a customer's unique software licensing needs and goals, our specialists deliver comprehensive reporting to help CIO/CTOs, IT Procurement and SAM professionals to help them make smart business decisions.

Our customers are our greatest advocates. We have over 50 managed services customers representing some of the world's largest and most complex organisations. Livingstone Technologies is headquartered in Reading, UK with operations in the US and the Asia-Pacific region.
Social Time & Certifications
March 11 | 5:00–7:30 p.m. | Registration & Conference Services
CM Summit attendees are invited to stop by the hotel to pick up conference materials. Look for the CM Summit sign in the lobby.
March 12 | 5:15–6:45 p.m. | CM Summit Networking Reception
Always a favorite. Always fun. Join us for a drinks reception and light dinner. Unwind, mingle and visit with the exhibitors and enter the drawing for valuable prizes. Prize drawings to be held at the conclusion of the reception. Conference attendees are automatically registered for the reception. Members of the San Francisco area SAM community are welcome to register and attend the reception. Reception-only registration will open in January 2018.

Conference sessions run 8:00 a.m.–5:00 p.m. on March 12 and 8:00 a.m.–4:00 p.m. on March 13.
March 14-16 | Post Conference Certification Courses
| | | |
| --- | --- | --- |
| Course | Description | Dates |
| Practitioners Certificate in Oracle License Management (PCOLM) | This course will empower you to make informed decisions on licensing and managing your Oracle software. The content covers not only the fundamentals of Oracle software licensing, technical support polices and software asset management, but also the essentials of server architecture, licensing and compliance concepts. Details | March 14 |
| Practitioners Certificate in Software License Agreements (PCSLA) | This course will help you master the 10 essential areas of a software license agreement. We present the material in plain English in the form of questions to ask and points to consider during the negotiation or contract evaluation process. Details | March 15 |
| Practitioners Certificate in SAP License Management (PCSAP) | This course will empower you to make informed decisions on licensing and managing your SAP software. The content covers not only the fundamentals of SAP software licensing, technical support polices and software asset management, but also the essentials of server architecture, licensing and compliance concepts. Details | March 14-15 |
| Practitioners Certificate in IBM License Management (PCILM) | This course will help you learn about critical areas of IBM licensing and develop a practical approach to creating reliable IBM license compliance reports. We will illustrate key concepts and pitfalls using exercises based on real-life customer scenarios. At the completion of this course, you will have in-depth knowledge on how to effectively determine your IBM license entitlements, deployment and compliance position using all available resources. Details | March 15-16 |
All courses will be held at a local meeting center. Details will be posted when available. For additional IBSMA courses click here.
Save 10% on early-bird registration (register 14 or more day in advance), or save $200 on multiple courses. Coupon codes listed on the shopping cart. Conditions apply.
*PCOLM, PCILM, PCSAP and PCSLA courses available for an additional fee.