Home | Contact Us | Events | IBSMA.com | News & Media | Publications | SAM Summit

The One Value-Packed Summit for
software Compliance Professionals
All NEW Compliance Manager Summit to debut in 2017
License compliance is one of the most difficult aspects of any software asset managerís job—from audits and negotiations to compliance in the cloud and understanding the role of cyber security in compliance. This is why the Compliance Manager Summit 2017 is changing its focus in a radical way to become an end-user summit. Click here for the latest agenda details.
This March 13-14, 2017, the International Business Software Managers Association (IBSMA) invites you to our fifth annual event delivering licensing know-how to end user/practitioner SAM managers (not our usual audience of software vendor compliance managers and auditors).
This is your exclusive opportunity as a SAM manager to gain an inside view of how the industryís top companies manage license compliance. A 3-track program over two full days will present innovations and successes through thought-provoking presentations, roundtable discussions, case studies, and open networking time to help you assess and manage compliance, audits and license negotiations.
Highlights from our 2016 CM Summit
Leading license compliance professionals and auditors, including experts from Oracle, EMC, Adobe and IBM challenged summit attendees to modernize their approach to license compliance. They also traded insights on trends for 2016 and offered ways to tackle the changing landscape of licensing and compliance in the cloud.

Jonathan Koop, global vice president of Oracle's License Management Services, kicked off the event with an overview of Oracle's evolving approach to license compliance. He stressed the increasing importance of paying attention to customers' expectations from the audit process.

"We're transforming what license management and auditing looks like in the future. We're moving to a more proactive engagement and collaborative relationship with our customers," said Koop. "We have not increased the number of audits we're doing, but we are doing more in-depth audits," he added, noting that customers deserve useful deliverables at the end of an audit.

Koop's advice to compliance managers in the audience was to look past the immediate returns of an audit to build long-lasting relationships with their customers—and strive to change the negative assumptions people make about auditors. Services should evolve to include advanced tools, partner and customer education, and staff development that grows industry-specific expertise.

Richard Atkinson, senior director of Adobe's Global Piracy Conversion Team, challenged compliance managers to adopt a new philosophy of license compliance and drop the company-as-a-victim mentality.

"We've reached a point where we're not interested in compliance. It doesn't really fit with how we want to build business," said Atkinson. "It made a crazy amount of money! But our brand is more important than short-term money."

Protecting the Adobe brand means assuming that customers are, by and large, well intentioned and will pay for the software that they're using.

Atkinson suggested that customers are more often the victim in a non-compliance situation, pointing out that vendors make software management and license compliance very difficult. He also warned against pushing customers into the arms of competing sales reps by taking a hardline stance throughout an audit.
Cloud fallout
The cloud continues to complicate license compliance for vendors and customers alike, especially as more organizations deploy different types of cloud models with widely varying licensing metrics. Koop believes that most customers will build a hybrid environment of on-premise software and private and public cloud applications. Ultimately, that means the customer will drive publishers to bring new licensing models to market.
Because of the consumer-driven nature of many cloud deployments, said Koop, "it's no longer OK for the vendor to just dictate license models."
He assured summit attendees that there will be a place for license management in a cloud-based world, but compliance managers need to become more flexible—expect customers to approach vendors with new models that they prefer. He suggested that an innovative compliance management program is open to the needs of customers as they transition to cloud-based applications.

Digging deep
Throughout the Summit, experts delved into a variety specific issues that can impact the relationship between vendor and customer, including using big data to boost compliance results, the hazards inherent to legacy license agreements, and the importance of transparency in software consumption.
Audits drive SAM
Steven Russman, director of IBSMA, reported on results of the IBSMA annual survey of SAM and license compliance practices. License managers report real and substantial growth in SAM program scope, both geographically and in terms of software managed for compliance. Many are managing more than $200 million and these large organizations continue to rate themselves the highest in terms of license-management success.

Audits continue to drive SAM and license management efforts. For 2015-16 audits are up for organizations small to large. Seventy-five percent reported being audited, a 15 percent jump over last year. It's clearer than ever that for the largest or most advanced users, proactive license management delivers real bottom-line cost savings. Cloud and SaaS applications are the next focus areas for publishers and audit findings will cause many customers to wish they had kept closer watch.

Between sessions, CM Summit attendees had plenty of time to network with peers and discuss specific ideas one-on-one with the executive experts who led the sessions. They also met with sponsors, including representatives from Accordo, Echez Group and V.I. Labs.
Attendees left the CM Summit armed with the knowledge to transform their compliance management programs. Summit participants are ready to tackle the complex compliance challenges of a rapidly changing licensing world, fortified with insight and fresh ideas gleaned from the software publishers changing the way compliance is viewed by customers.

Thank you to all of our attendees, speakers and exhibitors. Perhaps we'll see you at the 2017 CM Summit. Follow us:

at @SAMSummit_IBSMA or

†for the latest updates.
Who should attend
Compliance Manager Summit 2017 is for practitioner compliance professionals:
Software and hardware asset managers, IT audit and compliance program managers and staff
Software compliance auditors and software asset managers
Legal, finance and accounting staff
Executives looking to start or grow an internal software and compliance management program

CM Summit returns in the spring of 2017 with an all new format. We're featuring an all-new agenda which will include compliance pros from Oracle, IBM, KPMG, Anglepoint, Veritas, HPE and leading practitioner organizations. Here's a sample of the cutting-edge topics:
How to Prepare and Manage a Software Audit, Thought-leaders Panel Discussion
Build a Strategy to Identify and Reduce Hidden Audit Costs
What's New in IBM License Compliance
Cloud Licensing From the Auditors' Perspective, Panel Discussion
The Art of the Audit: How Small Teams Can Take on Large Vendors
Challenge Your Audit Findings and Win
Top 5 Microsoft Compliance Findings
Today's Legal Environment for Compliance and Enforcement
Know Your Rights: Legal Approaches to Minimizing Oracle Audit/Compliance Risk
Make or Break Contract Terms for Auditing and Compliance
Microsoft Audit Defense and Prep-Practices Roundtable
The Ins and Outs of SAP Compliance Audits
Click here for the latest agenda details.
Sessions are open to all attendees unless listed otherwise. Sessions listed as end user only are NOT open to vendors, consultants, software resellers, software tool providers, compliance consultants, practitioner consultants or other SAM services professionals. Individuals in this category are welcome to attend sessions open to all attendees or sessions for vendors only. IBSMA may invite non end users to attend certain sessions as co-presenter, moderator or room monitor. Questions on this policy should be directed to IBSMA director's office.
Compliance Manager Summit Mobile App
This custom app enables you to: download session materials, create a custom schedule, bookmark your favorite sessions, network and share contact info with other attendees and tweet about you experiences. Registered conference attendees will receive the login details and password required to access the app.
Location & Hotel Info
Compliance Manager Summit will be held at the Crowne Plaza Foster City-San Mateo. The hotel is a quick 10 minutes from San Francisco (SFO) airport and 40 minutes from San Jose (SJC) airport. The hotel offers a complementary shuttle to and from SFO airport.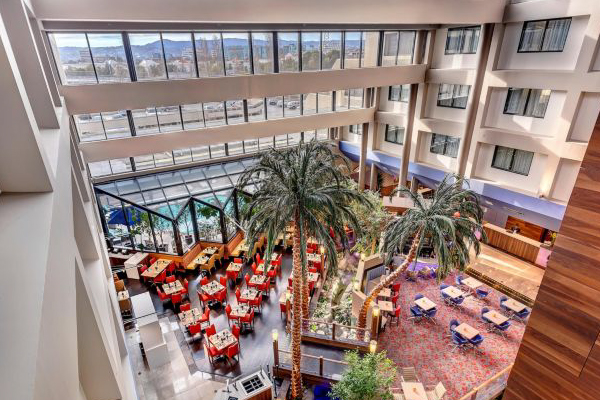 Crowne Plaza Foster City-San Mateo
1221 Chess Drive
Foster City, California 94404
Phone: 650.570.5700, fax: 650.295.0540
The IBSMA room block at the Crowne Plaza Foster City-San Mateo is now closed. The conference will be held in the hotel. Call 888.233.9527 and book your room at the market rate. If you need assistance please contact the hotel directly on 650.570.5700 and speak to the front desk.
*This link is not tablet or mobile friendly. The link automatically takes you to the landing page. For alternate dates please contact the hotel booking line at 888.233.9527.
2017 Sponsors & Exhibitors

Flexera Software is the leading provider of strategic solutions for Application Usage Management solutions delivering continuous compliance, optimized usage and maximized value to application producers and their customers. Flexera Software is trusted by more than 80,000 customers that depend on our comprehensive solutions—from installation and licensing, entitlement and compliance management to application readiness and software license optimization. Visit Flexerasoftware.com.

Revulytics offers cloud-based software usage analytics and turnkey services that give software producers deep visibility into how their products are being used and misused. Revulytics compliance analytics solution and services are used by leading software vendors to increase license revenue and globally reduce software piracy. Its software usage analytics solution provides valuable insight into product adoption, engagement, and environments, enabling product managers and developers to make data-driven decisions to meet customer needs and deliver contextually relevant messages to build customer satisfaction. Revulytics software intelligence supports customer compliance programs generating more than $1.4 billion in new license revenue since 2010.
Revulytics is headquartered in Waltham, Mass. and serves customers worldwide. For more information, visit Revulytics.com, follow us on Twitter (@revulytics), or subscribe to our blog.

CIO Review is a media sponsor for this event. Visit CIOreview.com.
Interested 2017 sponsors should contact IBSMA for details.
Education & Networking
March 12 | 5:00–7:30 p.m. | Registration & Conference Services
CM Summit attendees are invited to stop by the hotel to pick up conference materials. Look for the CM Summit sign in the lobby.
March 13 | 5:15–7:00 p.m. | CM Summit Networking Reception
Always a favorite. Always fun. Join us for a drinks reception and light dinner. Unwind, mingle and visit with the exhibitors and enter the drawing for valuable prizes. Prize drawings to be held at the conclusion of the reception. Conference attendees are automatically registered for the reception. Members of the San Francisco area SAM community are welcome to register and attend the reception. Details

Conference sessions run 8:30 a.m.–5:15 p.m. on March 13 and 8:30 a.m.–4:00 p.m. on March 14.
March 13, 15-16 | In-conference and Post Conference Certification Courses
| | | |
| --- | --- | --- |
| Course | Description | Dates |
| SAM Best Practices Workshop (included in the conference fee) | In this vendor-neutral, hands-on session, software asset management (SAM) expert Matt Marnell from Flexera Software will offer tips and practical approaches to scoping your SAM implementation and building a data model to accurately manage and report license entitlements and inventory in the real world. Note: This session is included in the conference fee. Register onsite for this session, open to end user practitioners and others by invitation. This session will have a working lunch. Details | March 13 |
| Practitioners Certificate in Software License Negotiation (PCSLA) | This course will help you master the 10 essential areas of a software license agreement. We present the material in plain English in the form of questions to ask and points to consider during the negotiation or contract evaluation process. Details | March 15 |
| Practitioners Certificate in Oracle License Management (PCOLM) | This course will empower you to make informed decisions on licensing and managing your Oracle software. The content covers not only the fundamentals of Oracle software licensing, technical support polices and software asset management, but also the essentials of server architecture, licensing and compliance concepts. Details | March 16 |
| Practitioners Certificate in IBM License Management (PCILM) | This course will help you learn about critical areas of IBM licensing and develop a practical approach to creating reliable IBM license compliance reports. We will illustrate key concepts and pitfalls using exercises based on real-life customer scenarios. At the completion of this course, you will have in-depth knowledge on how to effectively determine your IBM license entitlements, deployment and compliance position using all available resources. Details | March 15-16 |
| Practitioners Certificate in SAP License Management (PCSAP) | This course will empower you to make informed decisions on licensing and managing your SAP software. The content covers not only the fundamentals of SAP software licensing, technical support polices and software asset management, but also the essentials of server architecture, licensing and compliance concepts. Details | March 15-16 |
All courses will be held at the Crowne Plaza Foster City-San Mateo or a local meeting center. For additional IBSMA courses click here.
Save 10% on early-bird registration (register 14 or more day in advance), or save $200 on multiple courses. Coupon codes listed on the shopping cart. Conditions apply.
*PCOLM, PCILM, PCSAP and PCSLA courses available for an additional fee.