Home | Contact Us | Events | IBSMA.com | News & Media | Publications | SAM Summit

The One Value-Packed Summit for Compliance Professionals
The 2015 Call for Speakers is Open!
Looking ahead to 2015
Designed for license compliance professionals, along with industry consultants and auditors, this summit provides attendees a unique environment in which to learn, discuss and analyze the latest approaches, trends and hot topics in publisher license compliance programs. We're busy working on the 2015 conference. The call for speakers is open!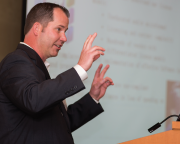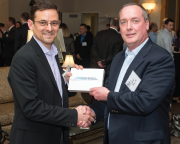 Christian Pruitt, Hewlett-Packard; Steven Russman and Peter Beruk
Focused topics and presentations
Only IBSMA brings to the table unparalleled, in-depth knowledge of the needs of the corporate software manager. For more than 12 years, IBSMA has had its finger on the pulse of business software consumers through annual surveys, studies, focus groups, workshops, publications and sold-out conferences.
Today, IBSMA is bridging the gap between software publishers and corporate software managers to elevate understanding and promote innovation. At the Compliance Manager Summit 2015, you'll gain the knowledge and insight they need to grow your compliance program, boost the bottom line and stay competitive in today's fast-paced global software environment.
The event focuses on presenting innovations and successes in these areas:
Executive views on compliance in 2015
Trends and events affecting publisher compliance programs
Developing programs for the midmarket and globally using qualified SAM partners
New technologies for compliance and enforcement, plus a sneak preview of new enterprise SAM tools
Publisher-provided tools for compliance and license management
Focus on compliance analytics and adapting your program for the cloud and software-as-a-service
Lessons learned from starting and running a compliance program: Adobe, Hewlett-Packard, Symantec, and Autodesk
Stimulating panel discussions with industry leading companies, including Oracle, VMware, EMC, IBM and more
Dynamics of monetizing software, for hardware vendors
What's new in SAM standards affecting software publishers
Customer case studies, stimulating group discussions and more.
Who should attend
Compliance Manager Summit 2015 is for software company license compliance professionals in the U.S., Europe and globally.
License compliance program managers and staff
Software compliance auditors and software asset managers
Legal, finance and accounting staff
Executives looking to start or grow a compliance management program
Sales operations
Industry consultants

Registered speakers for 2015 include representatives from Adobe Systems, Anglepoint Group Inc., Autodesk, Flexera Software, Hewlett-Packard, IBM, KPMG LLP, Netapp Inc., Oracle Corporation, PriceWaterhouseCoopers, Symantec, VMware and more. The call for speakers is open! Submit your speaker proposal today.
Recap of CM Summit 2014
A RECORD CROWD of software compliance professionals from around the world attended the 2nd annual Compliance Manager Summit March 10-11, 2014 in Santa Clara, Calif. If you weren't among the approximately 100 attendees at this exclusive gathering, you missed out on great networking and learning the current challenges publishers face in conducting license reviews, plus how they are evolving their programs to meet changing market dynamics.
The event was "excellent" with "fascinating and thought provoking sessions," and "informative and cutting edge information," attendees said.
"Great location. Compelling topics. Good presenters." Other found the "trends and state of the industry most compelling."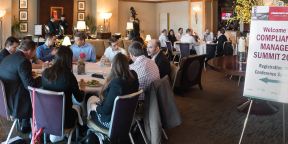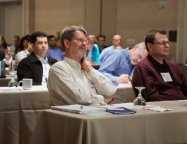 Summit attendees
"This was our second CM Summit with 50 percent more attendees and an international audience and wide range of presentations," said Steven Russman, executive director of the International Business Software Managers Association, which sponsors the annual event. "We'll continue to grow next year, expanding the agenda but keeping what attendees value most; the intimate atmosphere that allows for networking, and information-sharing."
"I liked the short, 30 minute presentations and how speakers discussed best practices from their own companies," said one attendee in the post-conference evaluation. "Absolutely great summit! Educational, informative and packed with knowledge!" said another.
Top-rated among the 16 sessions spread over a day and a half, was the closing session, the panel discussion, Why License Managers View Compliance Differently than You, featuring representatives from VISA, Kaiser Permanente and CSC. The session brought together end users and vendors in a lively and interactive debate where discussion touched on the complexity of license management and emerging challenges for licensing in the cloud.
Attendees also liked Christian Pruitt, with Hewlett-Packard (see Three Ways to Approach Compliance Management) and his work to transform HP's compliance business into a license management business. A roundtable discussion led by Christopher Ruhl with PricewaterhouseCoopers and Mike Koss with Anglepoint, was also a favorite. Amy Konary with IDC, always popular at IBSMA events, led a panel discussion with executives representing the license management organizations from Oracle, IBM, V.i. Labs and Flexera Software (see Fighting Piracy Without Alienating Customers). The panelists weighed in on their fights against piracy, how they handle distrust with customers, and ways honest customers can stay above the fray.
Location & Hotel Info
Compliance Manager Summit will be held March 12-13, 2015 at the InterContinental San Francisco.
Summit sessions will be held March 12, 8:30 a.m. to 5:30 p.m. and March 13, 8:30 a.m. to 12:00 p.m. There is a welcome reception on March 12 at 5:30 p.m.
INTERCONTINENTAL SAN FRANCISCO
888 Howard Street, San Francisco, CA 94103
1.415.616.6500
IntercontinentalSanFrancisco.com
IBSMA has a block of rooms available at the Intercontinental San Francisco, a four star hotel located next to Moscone Center in San Francisco. Book your room now. The group rate is $329/night plus 15.315% tax. The conference is in the hotel. Contact the hotel directly at 1.866.781.2364 and mention ECP Media Room Block or book online. The hotel will continue to offer the group rate until the block is full. Space is limited.
Summit Sessions
We're busy putting together a top-notch agenda of stimulating speakers and topics drawn from our extensive list of professional members and industry leaders. To submit a speaker proposal, e-mail the session title, short description, speaker name, company and job title to CMSummit@ECPMedia.com. We are accepting speaker proposals until all sessions are filled. The 2014 agenda is below.
 
Monday, March 10
7:30–8:30
Registration and breakfast
8:30–9:30
Executive Views on Compliance 2014 Moderated by David Welch, NetApp and Steven Russman, Executive Director, IBSMA

Expect frank assessments, diverse views and lively debate (including audience participation) at this panel discussion among software company compliance executives as they address the biggest challenges and opportunities in running compliance programs today. Panelists include executives and managers from Adobe Systems, Hewlett-Packard, Oracle and EMC.

9:45–10:30
Software for the Future: Key Trends in Licensing and Valuing Software Amy Konary, IDC

Sought-after industry analyst and forecaster Amy Konary presents what's driving changes in licensing and how to best take advantage of the new alternatives. Get an insider's view on supplier strategies and tactics affecting the way software will be licensed in the future. The presentation includes details from the annual software pricing and licensing survey conducted by IDC and Flexera Software.

10:30–11:00
Break
11:00–11:35
The Hewlett-Packard Compliance Evolution Christian Pruitt, Hewlett-Packard

Learn how and why HP transitioned from their audit- and enforcement-focused view of compliance to a more effective education and management view. Hear the benefits of promoting self-reviews and understanding customer needs from HP's director of worldwide compliance Christian Pruitt.

11:40–12:15
EMC, Forging a New Path in Asset Management Jared Collins, EMC

EMC, a global leader in information infrastructure, offers compliance managers a portfolio of products and services to grow their practices from audit to asset management. Jared Collins, EMC's worldwide director of asset management services, discusses the philosophy behind the EMC approach and how it delivers unique value in today's rapidly shifting compliance landscape.

12:15–1:20
Networking lunch
1:30–2:05
Tension-Free Audit Letters that are Productive, not Painful David Welch, NetApp

Review actual audit letters from firms and publishers showing the right way and the wrong way to inform customers of an impending audit. In this focused session, you'll learn how to reduce tensions on both sides, avoid alienating your customers, and set the right tone with an effective call to action letter.

2:10–2:45
Insiders' View of Oracle License Management Services Brian Papay, Oracle License Management Services

Is your compliance group's internal reporting and analytics efficient and agile? Brian Papay, Oracle's senior director of North America License Management Services, provides insights on how to build effective internal license program reporting systems. From an overview of LMS to lessons learned to customer expectations, Papay will present Oracle's approach to license management services and demonstrate how data mining and business intelligence tools provide the data publishers need to advance compliance management.

3:00–3:30
You Never Expected THIS in Your Compliance Process Henry W. Jones, Attorney at Law

The software compliance landscape is changing rapidly. Customers faced with audits and fines are fighting back, often costing publishers more in legal fees than they sought in fines. Hear how recent unpublicized license litigations can influence compliance program process and enforcement design. In this thought-provoking session with dynamic attorney, author and educator Hank Jones, we'll drill down into the legal nuances and come away with real world lessons on negotiations, contract terms and business results.

Roundtable discussion: Starting, Growing and Reinvigorating Mature Compliance Programs Moderated by Michael Koss, Anglepoint and Chris Ruhl, PriceWaterhouseCoopers

Roundtable session runs 3:00–4:00.

3:35–4:05
Alternatives to Audits for Ensuring Compliance Mathieu Baissac, Flexera Software

No matter how hard you try to make routine audits amicable, some companies will always view them as confrontational, intrusive and extremely inconvenient. What if there were other ways to ensure that customers are not deliberately or unintentionally overusing licensed software? In this session Mathieu Baissac, VP of product management for Flexera Software, guides you thorough the use of audit compliance-aware software  that captures usage in a non-threatening and non-intrusive way, enables enterprise self-compliance, and provides a single source of  compliance data for both the enterprise and the publisher.

4:00-4:15
Break
4:15-5:15
Licensing and Technology Trends Panel Discussion Moderated by Amy Konary, IDC

How will changing technology impact software companies compliance programs and their customers in the coming years? We'll explore usage management, software tagging, cloud computing, virtualization, license metrics and more. Join thought leaders from Oracle, Flexera Software, V.i. Labs and IBM as they share their views today and on what's to come.

5:30–6:45
Reception sponsored by . Enjoy drinks and appetizers and enter the prize drawing to win an iPad.
 
Tuesday, March 11
7:30–8:30
Networking breakfast
8:30–9:15
What's the Future of Compliance? Theresa Rocker, Genesys Systems

To understand where the software license compliance industry is going, first we'll take a look at how we got here. With more than 20 years in compliance, Theresa Rocker, director of global compliance with Genesys Systems, guides us through the hurdles and innovations that brought us to today, then we'll explore the strategies that will drive the industry tomorrow. Theresa has held positions in software antipiracy and compliance program management with Lotus Development Corp. and prior to joining Genesys led IBM Americas Software Compliance Sales Office.

9:30–10:05
2013 Publisher Compliance Survey Key Findings Paul Baguley, KPMG

The KPMG/IBSMA software license compliance survey is always revealing. KPMG's Paul Baguley presents this insider's view of software license compliance programs in 30 leading software companies. Survey results uncover the nature and extent of revenue and intellectual property loss caused by unlicensed software use and what software companies are doing about it. Results also cover reporting tools, licensing models, future trends, compliance approaches and goals, and compensation structures.

Multi-Cultural, Multi-National Compliance Revenue Challenges Wayne Jackson, Accordo Group

After auditing more than 800,000 customers in more than 50 countries, Accordo Group has learned a thing or two about cost-effective compliance revenue recovery in diverse environments. Wayne Jackson, Accordo's founder, presents how his company has recovered more than a billion dollars of compliance revenue from small and medium sized companies with minimal impact on customer satisfaction.

10:20–11:00
Accelerate Conversion and Compliance Using Software Adoption Intelligence Victor DeMarines, V.i. Labs

Learn new tips and techniques to safely capture intelligence on how organizations use and overuse software. Join V.i. Labs' VP of Products Victor DeMarines as he presents how to leverage in-application response strategies to educate users and prevent software misuse. DeMarines will also address the latest challenges from regional and industry piracy trends, compliance in China, and key best practices to convert raw software usage intelligence to actionable sales leads.

Why IBM Makes Tags the Cornerstone of Asset Discovery Brian Turner, IBM

To achieve the next level of automation in asset discovery and inventory technology, IBM will employ ISO 19770 tags for deployment time identification and usage mode (e.g., test or production). In this session, IBM program manager Brian Turner explains how proprietary software identification (SWID) tags will be replaced with industry standard tags that can be used with basic usage and metering data to provide near real-time metrics for enterprise software deployments.

11:00–11:20
Break
11:20–12:10
Why License Managers View Compliance Differently than You Moderated by Steven Russman

Walk a while in the shoes of veteran enterprise software license managers and you'll gain a new perspective on compliance. This session will enlighten and inform on the real challenges and opportunities customers' license managers face in organizations today. Expect frank assessments and lively discussion. Panelists include managers from IBSMA-member companies VISA, Computer Sciences, F. Hoffmann-La Roche Ag and Kaiser Health Plan.

12:10–1:30
Networking lunch
2015 Sponsors & Exhibitors
Interested sponsors and exhibitors should contact IBSMA. E-mail Services@IBSMA.com or call 1.734.930.1925.
About IBSMA
The International Business Software Mangers Association (IBSMA) is the world's largest nonprofit association of business-focused software management (SAM) professionals working together to develop and promote SAM best practices and address issues of common concern. Visit IBSMA.com for details.